Hosting a Farm Tour in Southeast Kansas
This week, I hosted a Farm Tour in Southeast Kansas with Kansas Farm Bureau President Rich Felts and ag leaders from the community. I want to thank 5E Farms, Atkinson Family Farms and Foster Dairy for hosting us and for sharing valuable insight during the tour.
5E Farms in Columbus
Our first stop was at 5E Farms which is owned and operated by the Epler family in Columbus. It was great to see the daily operations of their farm and to discuss the important issues facing our ag community. Thank you to the Epler family for hosting us and for their work to support our state's ag industry.
Atkinson Family Farms in Scammon
Next, we stopped at the Atkinson Family Farm in Scammon where we toured one of their soybean fields. We spoke about the importance of our state maintaining its role as a leader in soybean production and how high input costs and fertilizer tariffs are impacting Kansas farmers and ranchers, as well as the importance of expanding markets for soybeans through exports, biofuels and aquaculture.
Matthew Atkinson serves on the Board of the Kansas Soybean Association, and it was great to hear from him about the work this organization does to support Kansas. I want to thank Matthew and Marion Atkinson for hosting me and for the work they do to make certain that Kansas continues to be a thriving hub for agriculture and soybean production.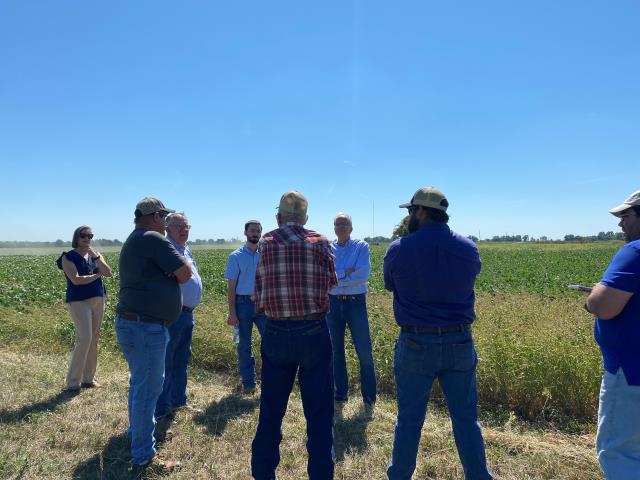 Foster Dairy in Fort Scott
During our final stop in Southeast Kansas, we heard from local dairy producers about their daily operations, as well as the sustainability practices they have implemented to make certain they are being responsible with our state's natural resources. They also shared about their involvement in educating local students on the dairy industry and its important role for our state.
Read more about the farm tour here in The Morning Sun.
Girard Community Visit
During my time Southeast Kansas, I also visited Girard to spend time with residents there. We spoke about how vital a strong ag industry is for our rural communities, as well as the importance of serving our fellow Kansans. It was great to speak with folks at the Heartland Electric Cooperative, Craw-Kan Telephone Cooperative and Crawford County Courthouse. Thank you to Craig Wilbert and everyone else who took the time to visit with me during my time there.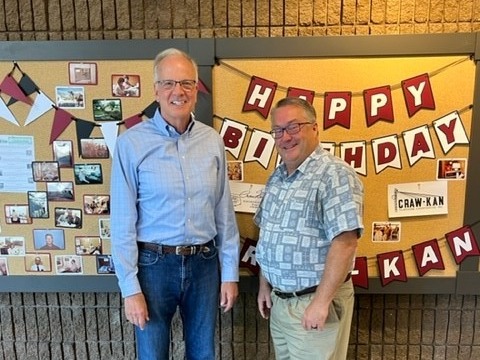 Senate Passage of Advanced Air Mobility Bill
This week, the U.S. Senate passed my legislation to facilitate collaboration between federal agencies and civil aviation industry leaders when developing policies regarding advanced air mobility (AAM). Kansas Representative Sharice Davids (KS-03) introduced the companion legislation in the House, and I'm pleased this bill is now headed to the President's desk for his signature. This legislation is an important step toward making certain that Kansas' aviation leaders have a consequential role in developing policies to shape the future of aviation.
AAM is an air transport system concept that integrates new aircraft designs and flight technologies into our existing airspace. American aviation is entering a new era of innovation and growth, and industry leaders should have a seat at the table as the federal government creates programs to advance the development of this technology, as well as sets safety and operation standards. This week, I joined industry leaders hosted by Honeywell to discuss the future of AAM and to celebrate the exciting new chapter for aviation signified by the passage of this bill.
Hosting a Roundtable Discussion with Minority Entrepreneurs
This week, I hosted a roundtable discussion with the Minority Business Development Agency, Center for American Entrepreneurship and a bipartisan group of senators to discuss how we can best support our minority entrepreneurs and business owners. Small businesses are the backbone of our economy – creating jobs and helping our communities thrive.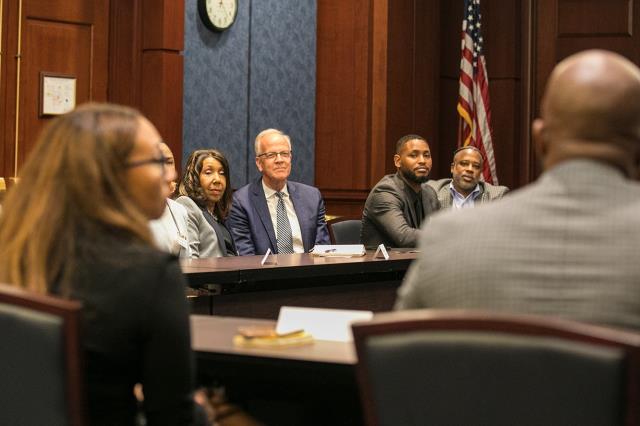 During this roundtable, we heard from participants regarding how the public and private sectors can work together to encourage new entrepreneurs and support the growth of small businesses. I want to thank everyone who joined this important discussion and for the work they do to support minority entrepreneurs.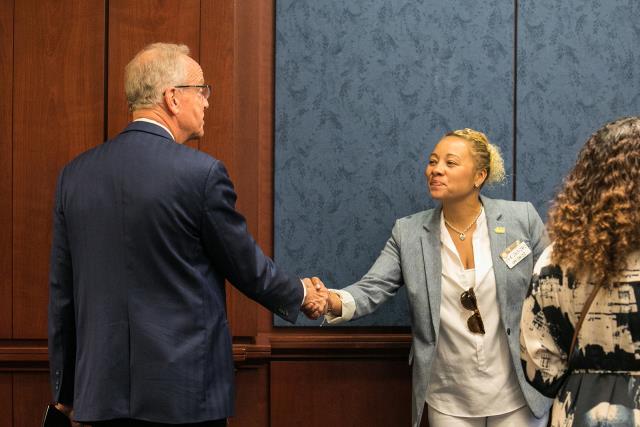 A special thanks to Donald Hawkins of Overland Park and LaFarris Risby of Junction City for joining the roundtable and for their work to encourage innovation and growth in Kansas.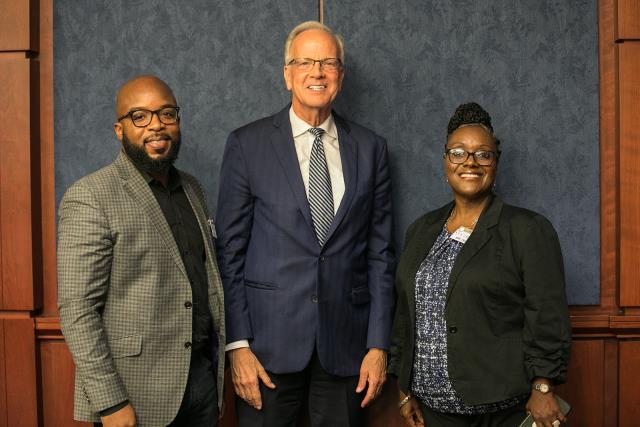 Unleashing American Energy
In Kansas, we know the importance of energy. We utilize it in our daily lives; we travel long distances and we use it in agriculture.
We have seen what can happen when you are dependent on other countries for energy, and the United States must make certain we are doing the things necessary to meet our own energy needs – with our own energy. We ought to be producing and encouraging the production of oil and natural gas, as well as an all-of-the-above policy that includes renewable energy such as wind, solar, bio-diesel and ethanol.
We can help the rest of the country if we let Kansas produce Kansas energy.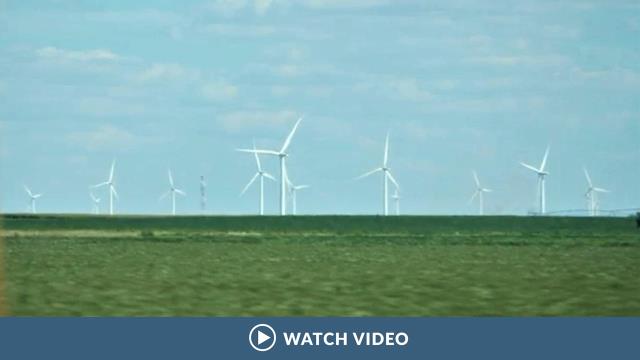 Service Academy Selection Board
This weekend, my Service Academy Selection Board met at the Cosmosphere in Hutchinson to interview applicants interested in attending our U.S. Service Academies.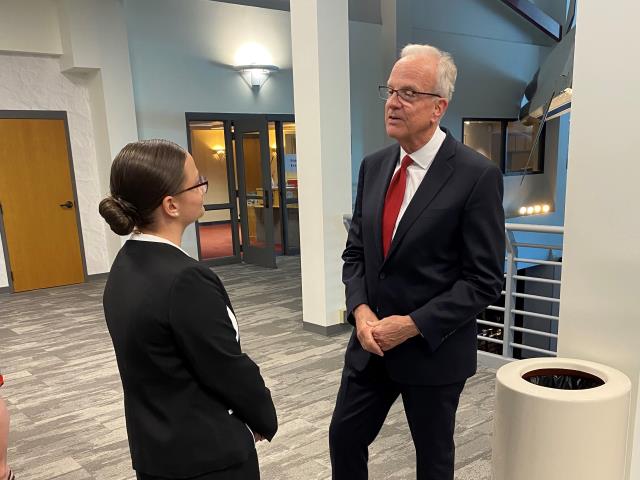 The opportunities to nominate talented Kansas students to attend our service academies is one of my greatest honors as a U.S. Senator. These young men and women are committed, hardworking and humble, representing the best of Kansas.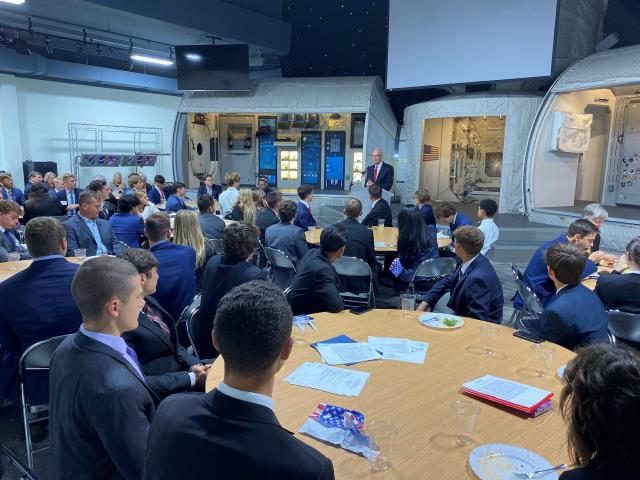 I want to thank these young Kansans for their desire to serve our country, and this year's Service Academy Selection Board for their service and dedication to investing in the next generation of young leaders.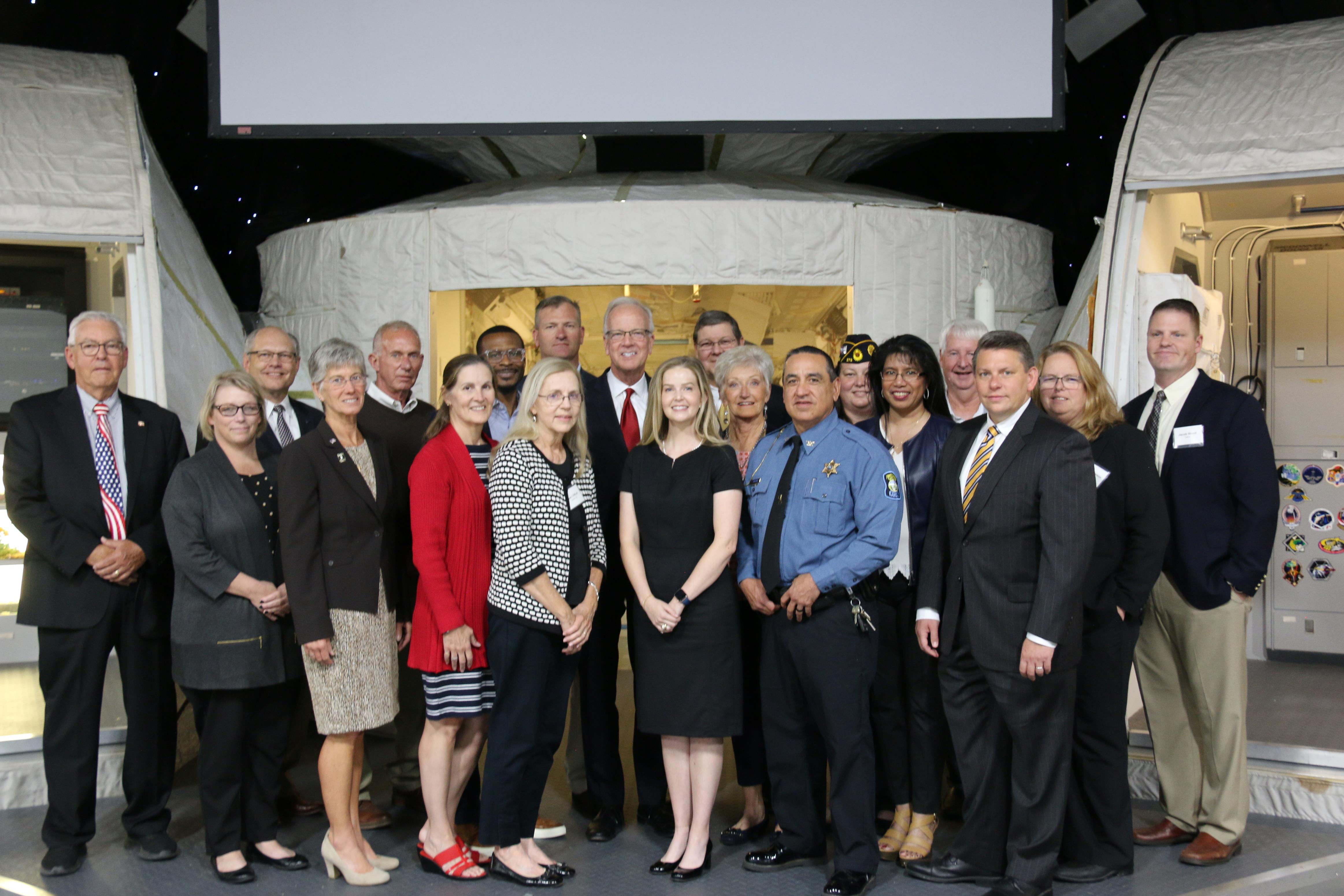 Making Certain Veterans Have Access to Timely Care
This week, the Senate Committee on Veterans' Affairs held a hearing regarding veterans access to care from the VA and in their community. The Veterans Health Administration's role is to make certain that service-disabled veterans receive world-class care in a timely manner. In most cases, that care will be delivered at a VA facility by VA health care providers. When the VA doesn't provide the service that a veteran needs, or if they can't provide needed care in a timely manner or a veteran lives prohibitively far away from a VA facility, veterans can receive care in their communities from community providers. Direct care and purchased care are both VA care that veterans earned through their service, but quality care means little if a veteran cannot access it in a timely manner. It is essential that VA measurements of wait times, both for individual referrals to community care and for average wait times that inform veterans' health care decisions, are consistent, transparent and accurate.
As the top Republican on the Senate Committee on Veterans' Affairs, I questioned the VA Secretary on how the VA can best measure and convey expected wait times accurately to veterans. The clock should start the day a veteran requests an appointment for care, and the VA's wait time calculations should shape how a veteran receives health care in a way best for them, rather than what is best for the department. I will work with my colleagues to make certain the VA provides veterans with clear and consistent information. VA must not try to game the system to limit veterans' access to VA community care simply due to costs.
Meeting with Kansans
Kansas Bankers Association
On Wednesday, I joined members of the Kansas Bankers Association to discuss the issues facing our community banks. These banks play a critical role for individuals, families and businesses throughout Kansas. Strong community banks support and advance vibrant rural communities throughout our state, and I am committed to making certain that this special way of life is preserved.
We discussed the Enhancing Credit Opportunities for Rural America (ECORA) Act, legislation I introduced to increase access to agricultural credit and lower interest rates on rural home mortgages. Supporting the lenders that serve rural communities gives more families and small businesses the financing and stability they need to thrive. As a member of the Senate Banking Committee, I will continue to support our community bankers in their work to expand access to financial services throughout our state. Thank you to the members of the Kansas Bankers Association for meeting with me.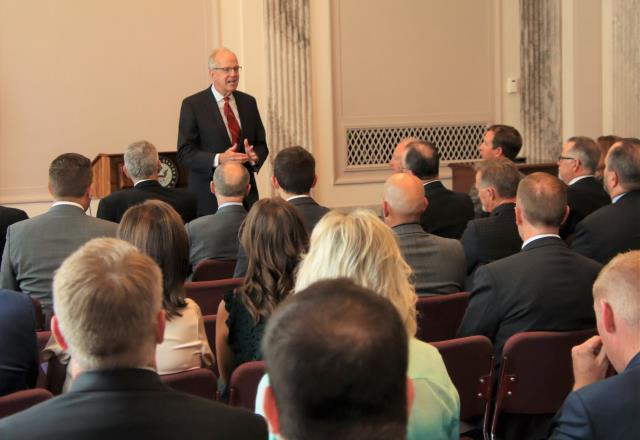 Kansas Head Start
I met with members of the Kansas Head Start Association to discuss their efforts to create greater access to early education opportunities for young Kansans. The Head Start and Early Head Start programs offer Kansas families opportunities at the local level to provide their children with early development and early learning resources that will assist them throughout their education.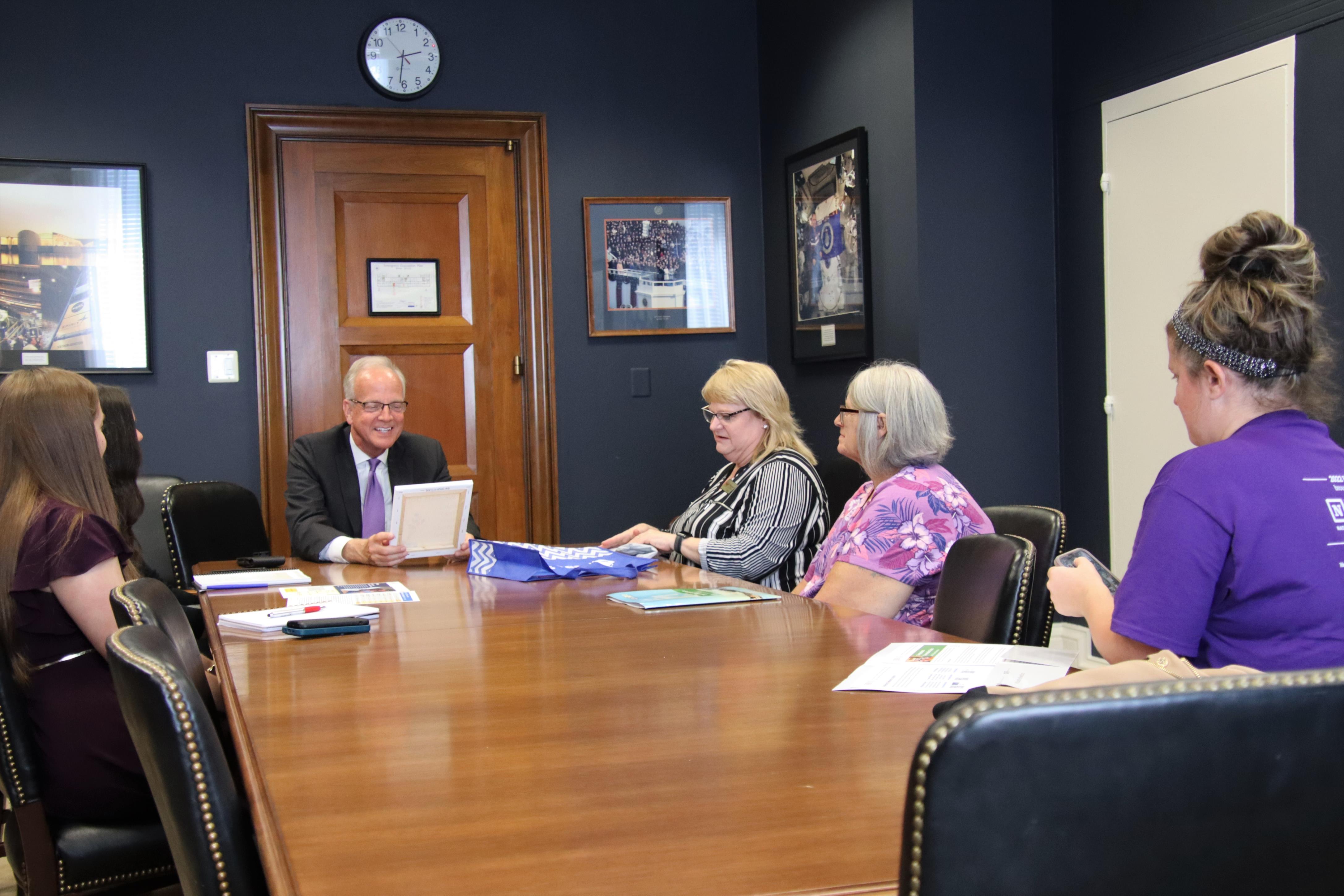 As a member of the Senate Appropriations Subcommittee on Labor, Health and Human Services, Education and Related Agencies, I will work with my colleagues to support the Head Start and Early Head Start programs. I want to thank Family Advocate Candy Reeves and Director Tamme Buller of Reno County Head Start in Hutchinson for the work they do to invest in young Kansans and for taking the time to update me on this important topic.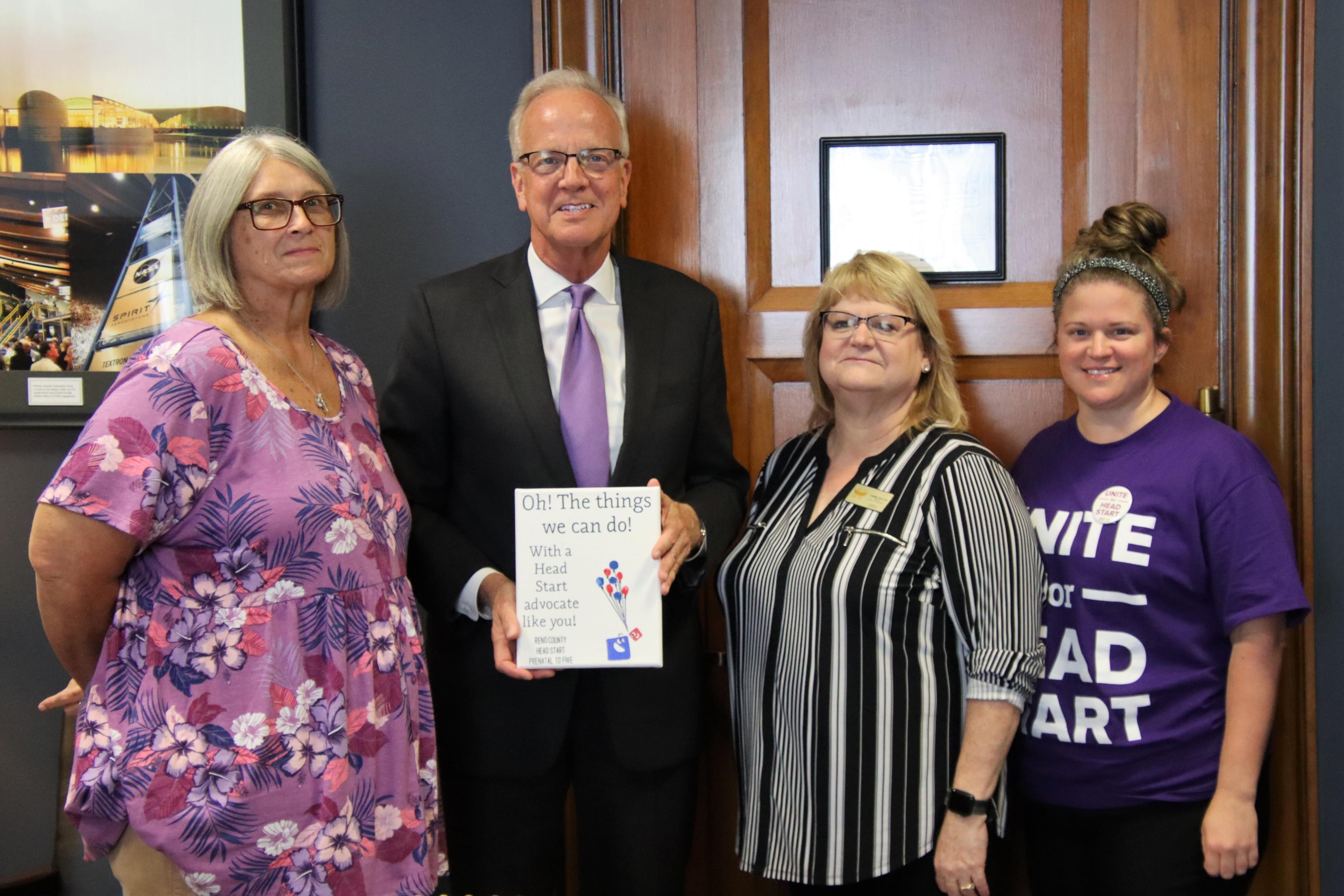 Associated General Contractors of Kansas
On Tuesday, I spoke with Mike Gibson from the Associated General Contractors of Kansas to discuss issues important to this industry, including workforce, education and burdensome federal government regulation. Kansas, like most of our nation, is facing a workforce shortage in nearly every industry, and the need to increase and stabilize our workforce increases every day. As we work toward that goal at the federal level, I am committed to making certain that federal funding is going directly to Kansas technical and community colleges so that our students are prepared to join the workforce immediately following graduation. A strong relationship between local businesses and educational entities will better equip students for their future positions and help them easily find employment here in Kansas. Thank you to Mike Gibson and the other members of Kansas AGC for their work to support thriving industries in Kansas.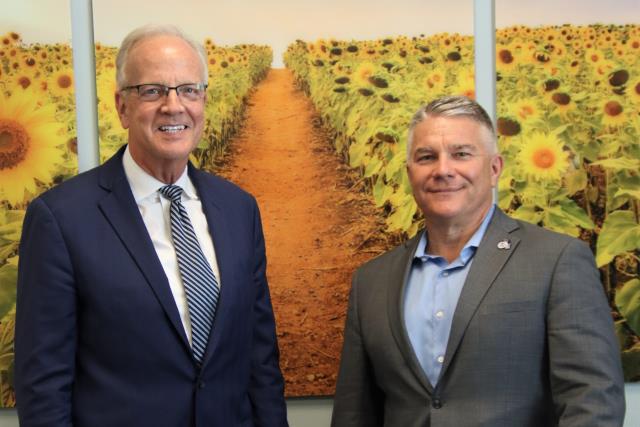 Fetal Alcohol Spectrum Disorders (FASD) Support Network
Thank you to members of the Kansas Fetal Alcohol Spectrum Disorders (FASD) Support Network for meeting with me this week. During this meeting, they updated on me on their efforts to provide support and educational resources to those living with the effects of prenatal alcohol exposure, as well as their advocacy for the FASD Respect Act. This bill would expand grant programs and education efforts at the Department of Health and Human Services and the National Institutes of Health to specially include fetal alcohol spectrum disorders. As a cosponsor of this bill, I want to thank Co-Presidents Kathryn White of Olathe and Kathryn "Kat" Meinhardt of Topeka for their leadership on these important efforts and for sharing their personal stories of how they care for the loved ones in their lives who battle the disease.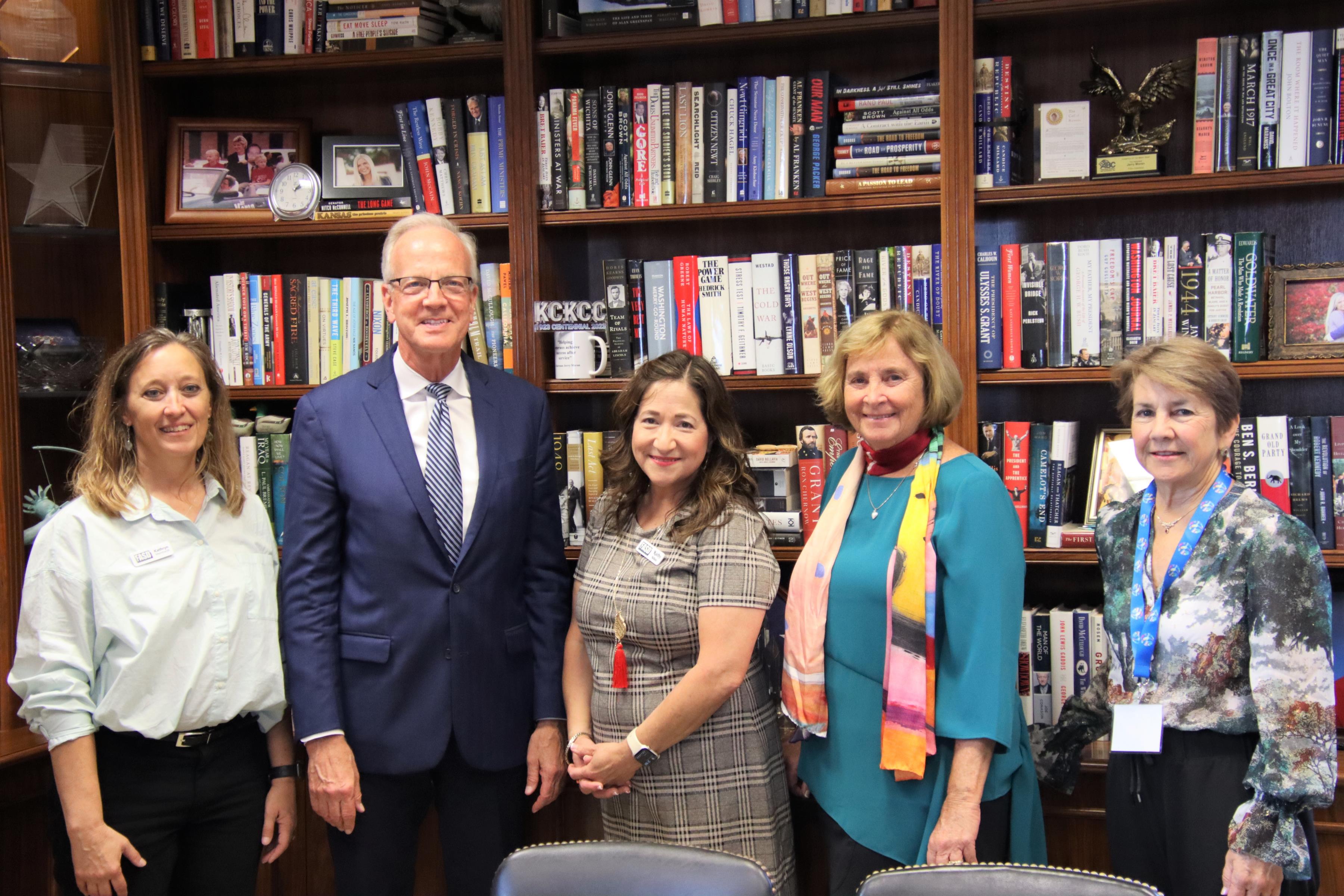 Pet Diamond Food
On Tuesday, I also met with Mike Kampeter, the CEO of Diamond Pet Food, to receive an update on the company's facility in Frontenac. We discussed the impact the short supply of animal fats and oils is having on pet food production. We also spoke about the importance of promoting trade and expanding our agricultural exports. It is vital for Kansas producers and manufacturers that the U.S. prioritize reaching new markets and growing our existing, international markets. Kansas is a national leader in pet food production, and I remain committed to making certain that this industry has the opportunity to thrive.
Livestock Marketing Association
I met with Kansans from the Livestock Marketing Association to discuss issues facing ranchers and producers. Livestock sale barns provide important market opportunities for producers, as well as help ensure robust price discovery in cattle markets. During our meeting, the sale barn owners spoke about efforts to incentivize prompt payments through electronic payments for quick, reliable money transfers. We also talked about the importance of a reliable and efficient postal service for sale barns to effectively collect and distribute payments to buyers and sellers. I have been a long-time supporter of preserving and reforming the United States Postal Service and was glad to see the Postal Service Reform Act was signed into law this year to help improve and sustain the USPS.
I look forward to continue working with livestock businesses across Kansas. Thank you to Brody Peak of Emporia Livestock Sales; Ryan and Chandra Wegener of LaCrosse Livestock Market and Ryan and Elizabeth Zeltwanger of LaCrosse Livestock Market for meeting with me.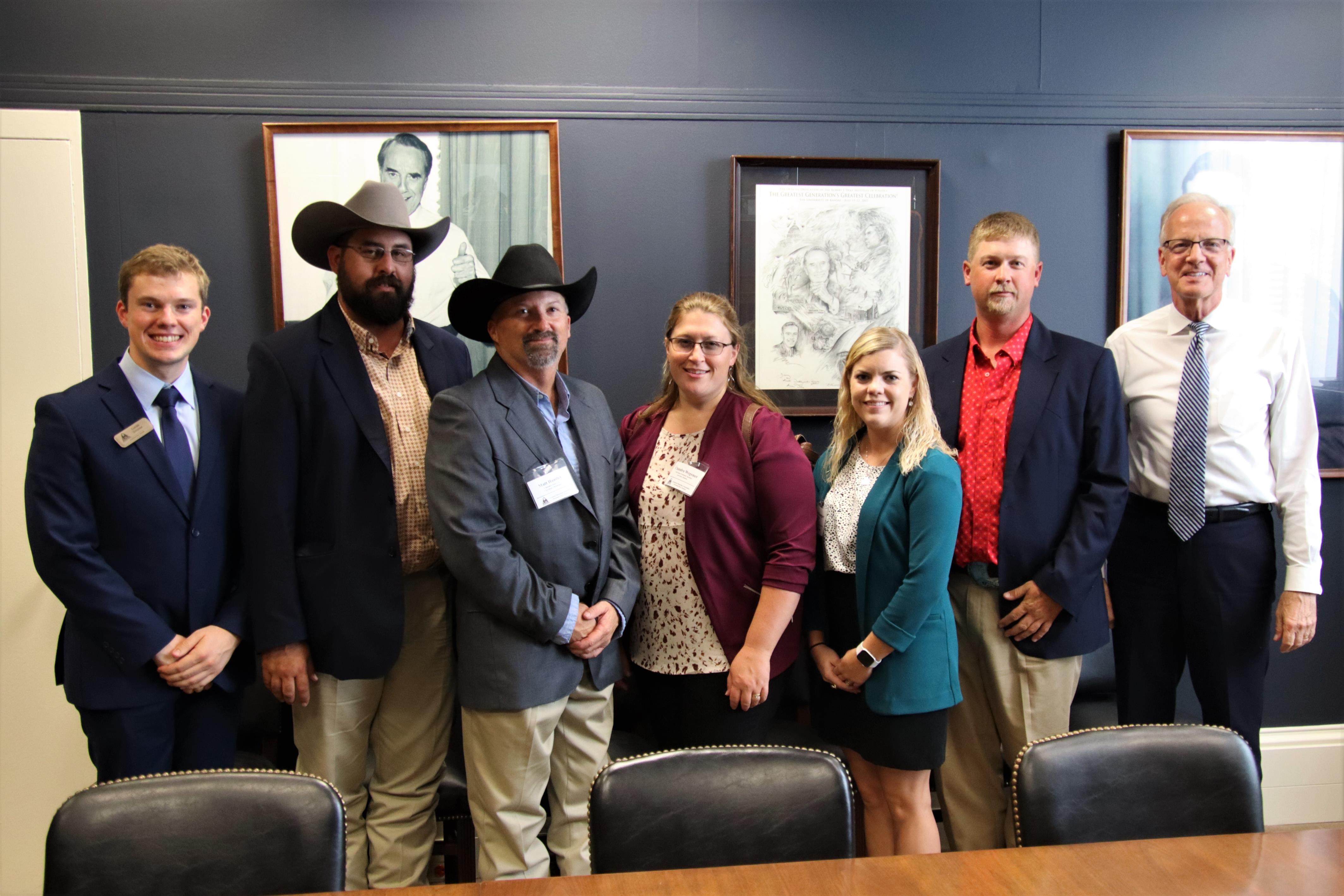 National Bison Association
On Tuesday, I met with members of the National Bison Association to discuss how it is essential for bison farmers that we grow and expand our markets, as well as the importance of supporting small packers that process bison to increase packing capacity and create new marketing opportunities for producers. It was great to meet with this group to learn more about the issues important to this industry. A special thanks to National Bison Association President Dick Gehring of Moundridge for his leadership in this industry for our state.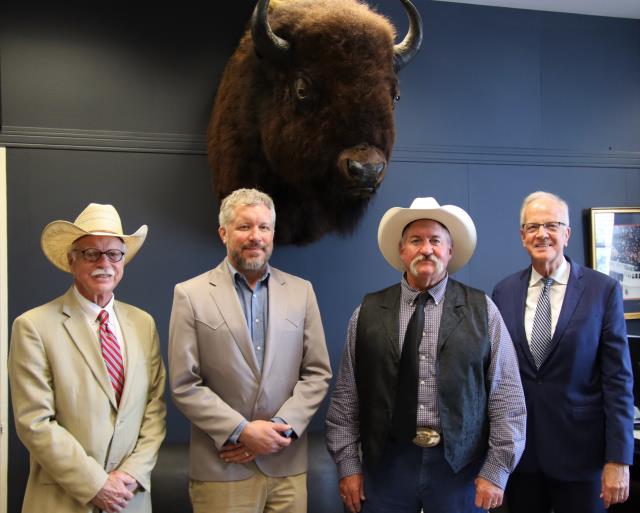 Local Kansas Newspapers and Broadcasters
I met with members from a few Kansas newspapers and local broadcasters to discuss ways to make certain local outlets are able to maintain advertising revenue as technology continues to evolve and grow. I believe local journalism brings communities together and provides a critical service to our state by reporting on community-specific issues and stories. During a time when national news is deepening the divide between Americans, the need for local journalism that brings us together is greater than ever before. It was great to hear from members of these Kansas media outlets, and I will continue working to sustain local journalism.
Joining the U.S. Travel Association CEO Roundtable
On Wednesday, I participated in a roundtable discussion with global business leaders in the travel, transportation and technology sectors to discuss the growth in this industry, as well as the role Kansas plays in advancing this field. These leaders also provided an update on how they have adapted due to the increased demand of domestic leisure travel following the pandemic. We also discussed visa processing, business entertainment expenses and legislation to support the U.S. travel and tourism industry.
In Kansas, we are well-positioned to reap the benefits of this return to travel with the upcoming opening of the new terminal at Kansas City International Airport. There is incredible growth occurring in our state, and I look forward to facilitating partnerships with industry and state leaders.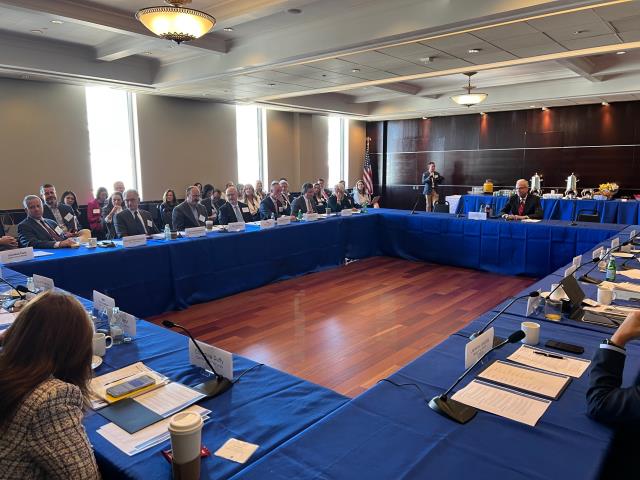 Senate Banking Committee Hearing
On Tuesday, rural housing stakeholders testified before the Senate Banking Committee. In nearly all rural Kansas communities, a lack of housing presents a significant impediment to job growth. At a time when Americans are dealing with high inflation, lowering the cost of home building is important for economic prosperity. Businesses looking to expand in small towns need available housing to be able to hire more employees, but soaring input costs and excessive regulations remain an impediment. The cost of lumber, steel and labor drive up the price of housing, pushing more Kansans out of the housing market.
During this committee hearing, we discussed new innovations to address housing shortages in rural America through increasing access in Rural Housing Service programs. I will continue to work with my colleagues on the Senate Banking Committee to find solutions for housing that expands access for Kansans of all income levels.
Speaking to the 2022 Leadership Kansas Class
This week, I spoke to members of the 2022 Leadership Kansas Class, a statewide program aimed at developing leaders in our state and highlighting the many different industries here in Kansas. This program is a great opportunity for members to learn more about Kansas as a whole and to better understand the variety of thriving industries that make up our state.
As a graduate of Leadership Kansas, I always enjoy the opportunity to speak with participants. I want to express my thanks to these individuals for choosing to invest in our state through this program.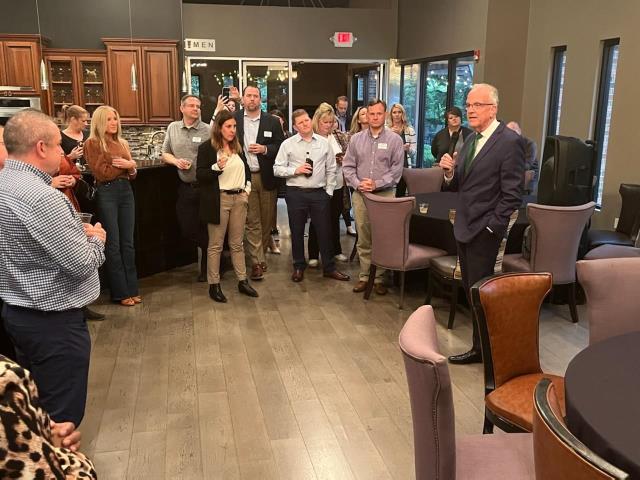 Competition Needed to Address a Flawed Organ Donation System
In Kansas, people look out for their neighbors and give to others even when they have little for themselves. That spirit of generosity is why Kansas, along with other states in the Midwest, has a high rate of organ donation. However, the organs donated by Midwesterners are not all going to their neighbors and friends. Due to biased rules in the national liver transplant system, many of the organs donated in the Midwest are sent hundreds of miles away to coastal urban areas where people donate organs at a much lower rate.
This week, Modern Healthcare published my op-ed on the need for the Department of Health and Human Services and Congress to prioritize reforming our organ donation system, beginning with a competitive contract process. You can read my full op-ed here.
Gold Star Mothers & Families Day
On Gold Star Mothers & Families Day, we honor and recognize our Gold Star mothers and families, who have lost a loved one who was actively serving their country in the U.S. military.
Military service is family service, and we owe our Gold Star families a great debt.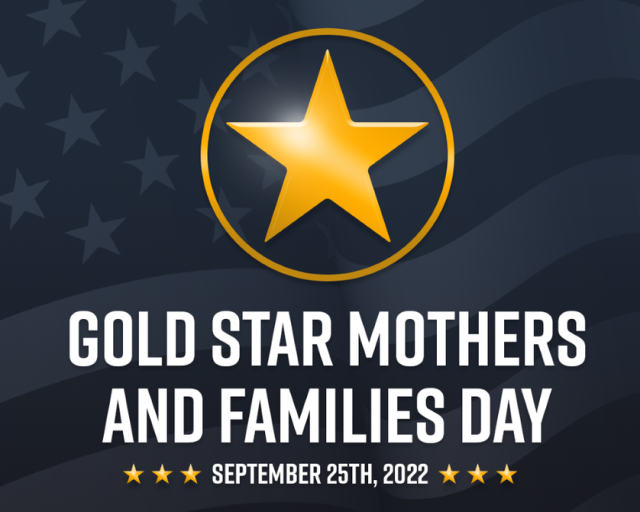 Rosh Hashanah
I want to wish a happy Rosh Hashanah to all Kansans and those across the world who are celebrating. May this new year be filled with joy, peace and good health.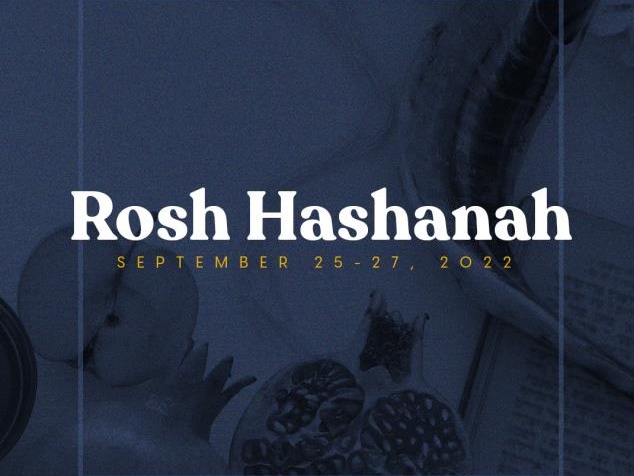 Capitol Tour
Heidi Feyerherm-Smith of Salina
Gretchen Freking of Topeka
Miranda Powell of Topeka
Nicole Rodriguez of Leavenworth
Kevin Smith of Salina
Lexiana Smith of Salina
Addie Smith of Salina
Andreas Spahn of Kansas City
Katja Spahn of Kansas City
David Stapleton of Leavenworth
Justin Stapleton of Leavenworth
American Academy of Pediatrics
Dennis Cooley of Topeka
Pam Shaw of Lawrence
National Bison Association
Dick Gehring of Moundridge
Fetal Alcohol Spectrum Disorders (FASD) Support Network
Kathryn "Kat" Meinhardt of Topeka
Kathryn White of Olathe
Golf Course Superintendents Association of America
Chava McKal of Lawrence
American Academy of Dermatology
Holly Fritch of Leawood
American Coalition for Ukraine
Paige Barrows of Olathe
Kansas City Associated General Contractors Chapter
Don Greenwell of Mission Woods
Parker Young of Overland Park
Renee Young of Overland Park
Livestock Marketing Association
Matt Huntley of Argonia
Lucas Simmer of Shawnee
Ryan Wegener of LaCrosse
Chandra Wegener of LaCrosse
Ryan Zeltwagner of LaCrosse
Elizabeth Zeltwagner of LaCrosse
Blue Cross Blue Shield of Kansas
Sunee Mickle of Lawrence
International Franchise Association
Greg Sulentic of Overland Park
Central Christian School
Dr. Tad Nuce of Whitewater
Dr. John Walker of Hutchinson
Pet Industries Joint Advisory Council
Michelle Russell of Erie
Lorilee Thomas of Whiting
Leading Technology Composites
Sarah Miller of Wichita
Dan Sadowski of Wichita